Have You Got A Mini Monet?
Nurture you Child's creativity with Term Classes and School Holiday Workshops or plan a Birthday Party with a difference with one of our Art Parties!
Gift Certificates are also available to spark their creativity!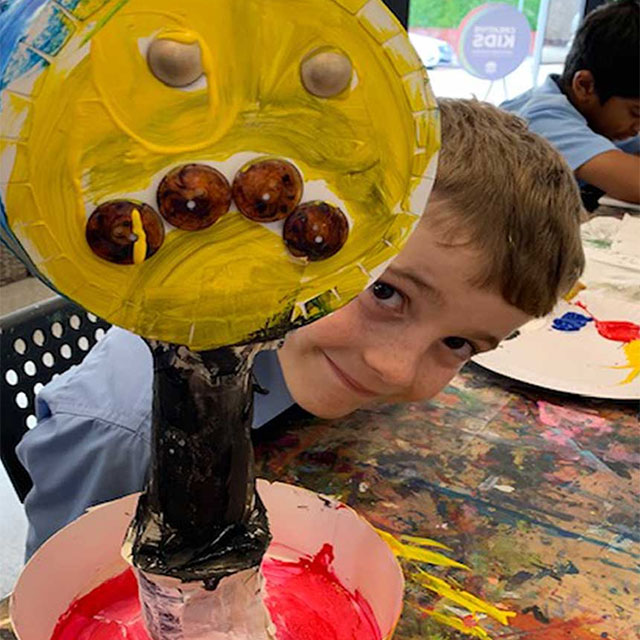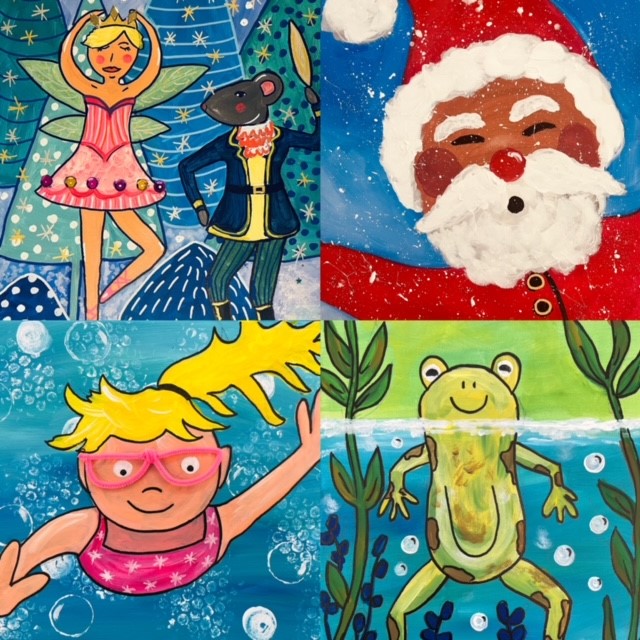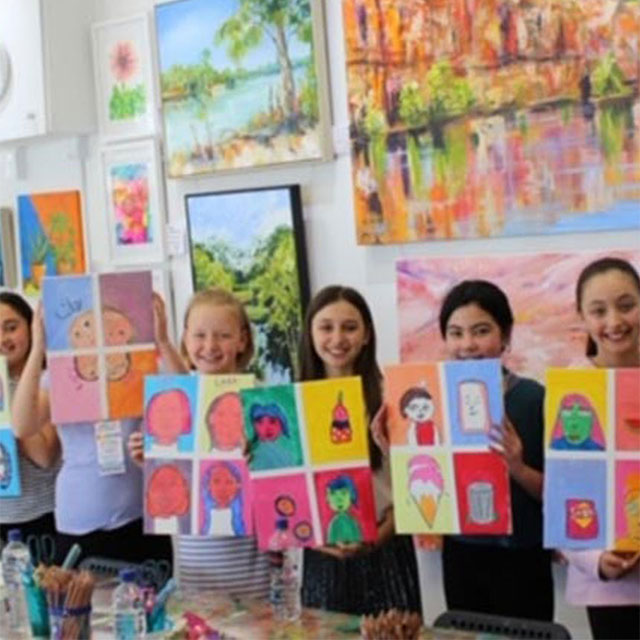 Term Classes
Term 1 2024 COMING SOON!
Classes are from 5 February 30 March 2024
BOOKINGS OPEN SOON!
Please note that we give priority booking to currently enrolled students, followed by our waitlisted students. Once these spots have been allocated, we open up our spots to the wider community.
Need to chat? Give Julie a call on 0416 135 146.
Free Trial class available (if spots available). Call Today!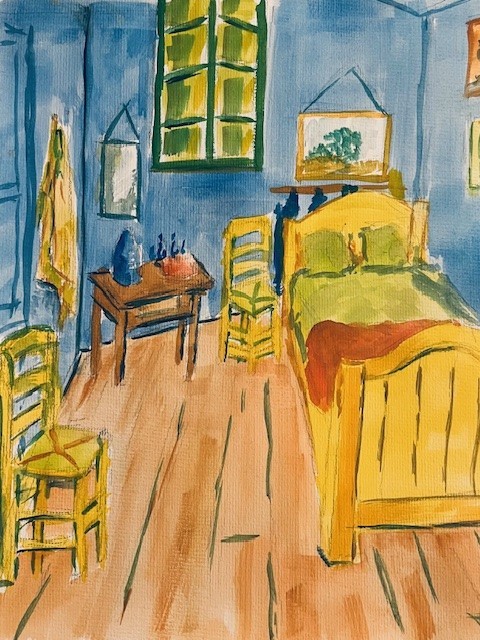 Art Through The Ages
Term 1 2024
Students will learn about Art Through The Ages and how selected artists produced their artworks and how contemporary artists produce their works today.
Classes are pro rata throughout the term so you can join in at anytime!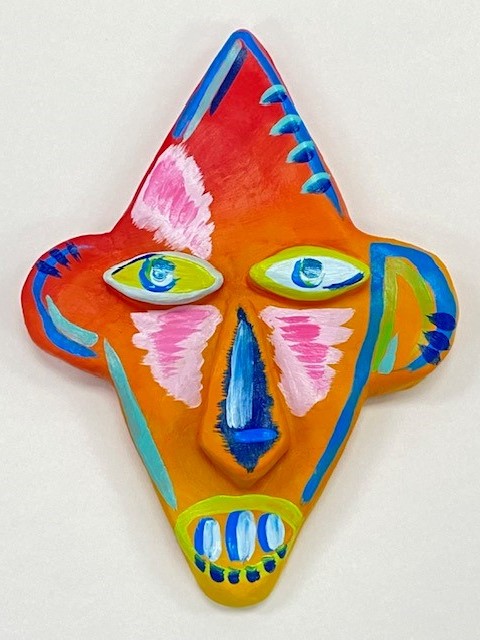 This term we start with African Art and its influence on modern art. We then step into Romanticism and the works of Delacroix, Turner and Goya; Post Impressionism and the wonderous Van Gogh and then the Grey Scale works of Escher, Picasso and Charles Clary. We round out the term with a look at Environmental Art and the works of Christo and then the very interesting world of AI in Art and how Australian artist Sam Leach uses AI in his compositions.
We will also explore clay construction, soft pastels, acrylic paint, paper sculpture, mixed media using fabrics and digital art with acrylic, watercolour and oil pastels. Other techniques will include drawing as drawing underpins most of our process art techniques. We will also explore a variety of subject matters related to portraiture, landscapes, animals, still life, urban landscapes and the human figure.
Our process based art studio teaching is founded in the Great Art Movements, and each week we explore a different era of Art History and Fine Art Techniques
Create a Body of Work masterpiece to take home!
The first 6 weeks are spent learning various techniques while in the last few weeks, you develop your own Art Through The Ages inspired mini Body of Work masterpiece based on the choice of techniques we looked at and developed over the course of the term!
All materials for your end of Term Body of Work are provided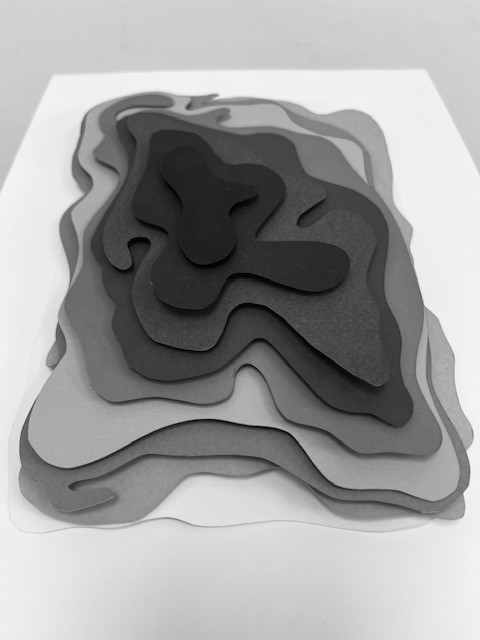 Classes
K-6 classes run Monday to Friday from 3.45-5.15pm, and on Saturday from 10am to 11.30am
Teen Classes run on Monday and Wednesday from 5.30-7.00pm.
Extended Hours to 6pm on some days is possible! Please ask when you book
Fees
An Early Bird Rate is offered to existing Students for re-enrolment
Term Fees are prorated throughout the Term so you can join at anytime!
Full Term Fees are from $380 inclusive of GST.

All materials and tuition are included

Students are provided with an apron in class

Each Student receives a Visual Art Diary

Walk From School Service from 2 local schools

A light snack of fruit & biscuits is provided

Art history & a Fine Art lesson each week

Take home a Masterpiece!
What People Are Saying About Our Children's Term Classes
School Holiday Workshops
Get the kids out and about and creating this School Holiday period!
Our School Holiday Workshops are a mini Fine Art Lesson in one and include all the materials the kids need to create something wonderful these School Holidays!
We have K-6 Workshops and Teen Workshops each Holiday period!
Our Full Day Workshops start at 9am and go through to 3pm, with a lunch break in between ($110). Please provide lunch & a water bottle for your child
Our Half Day Workshops run from 9am to Midday and then in the afternoon from 2pm to 5pm. Prices start from $55. Please provide a water bottle for your child.
Please check each workshop description for details.

All materials and tuition are included

An apron is provided in class

Fruit & biscuits snack is provided

Includes a Fine Art lesson

Take home a Masterpiece!
What People Are Saying About Our School Holiday Workshops
Welcome To Our Children's Art Parties!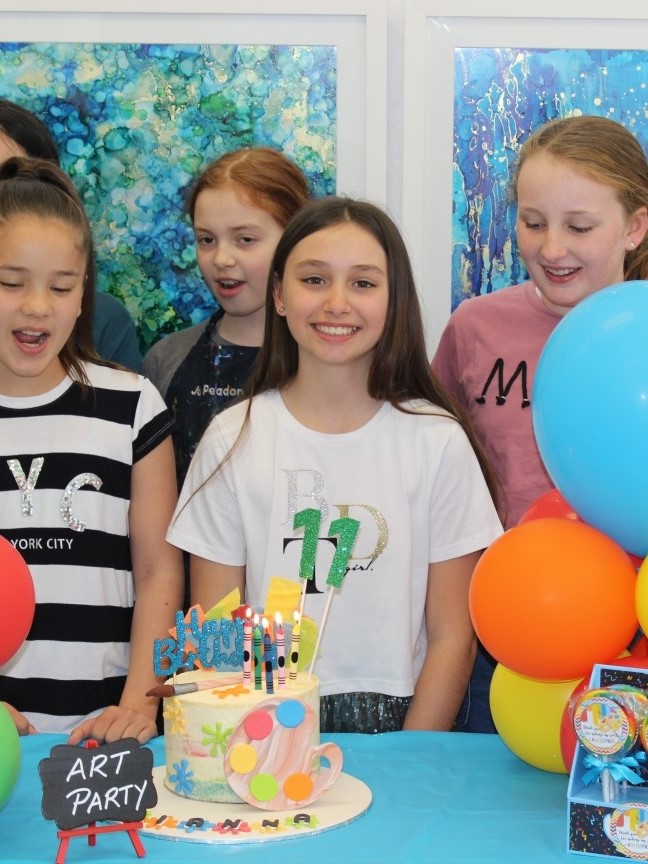 Our 2 hour package includes all tuition and art materials.
You bring the cake, the party food and the drinks!
We have a suite of boutique genres you can choose from for your special occasion, from classics like Monet and Van Gogh to contemporary Pop Art and Abstract Art.
Party Bookings are available on Friday, Saturday and Sunday!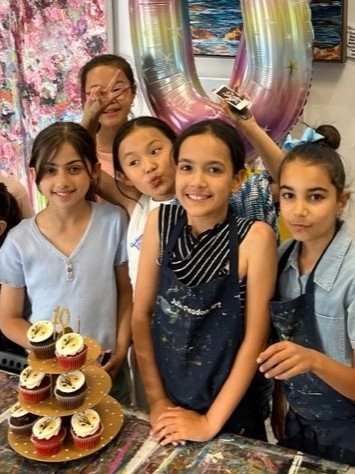 If you have a specific theme in mind, we can even design a custom party just for you! (Additional fees may apply).
Click on a Theme below to choose the Artwork you want for your Party!
We have a great courtyard space with giant Lego blocks that the children can make sculptures with once their painting is complete
You are welcome to bring drinks and snacks for the guests and of course, if you're celebrating a Birthday, we can accommodate the creative time to allow for Birthday Cake, candles and singing!
We recommend that you invite your guests to arrive 10-15 minutes before your allocated time so they have time to be greeted, get their aprons on (provided by the Studio) and get settled before starting their Art Experience!






Party Packages are $55 per child and Party Timeslots are in 2 hour blocks.
A longer party time can be arranged at an additional hourly rate.
We require a minimum of 6 children, and can cater to a maximum of 12.
For larger parties we have a maximum capacity of 24 over the two studios
Bookings of 5 or less are considered a private lesson and fees of $100 per person apply.
YES! You can also use your NSW Creative Kids Vouchers for a Children's Party!
What People Are Saying About Our Kid's Art Parties
Creative Kids Voucher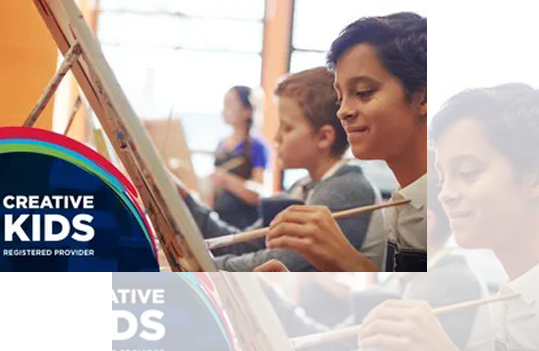 HOW DO I REDEEM MY CREATIVE KIDS VOUCHER?
To claim your Creative Kids Voucher for a Term Class, Half Day Workshop for Full Day Workshop, please ensure you enter your child's 16 digit Creative Kids Voucher number, full name and date of birth.
WHERE DO I FIND OUT MORE ABOUT THE CREATIVE KIDS VOUCHERS?
Our Student Works