We are a COVID Safe Business. BOOK in TODAY!
Private Event Bookings
Click on the links below to check availability and book your personalised Private Event
Classes & Workshop Bookings
All Prices are Inclusive of GST.
[wtcpl-product-cat orderby="upcoming"]
Creative Kids & Service NSW Vouchers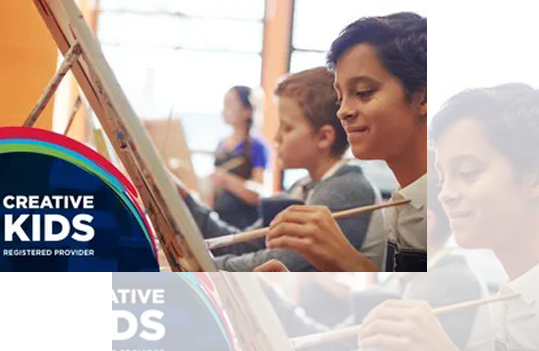 HOW DO I REDEEM MY CREATIVE KIDS & Service NSW VOUCHERs?
To claim your Creative Kids Voucher or Parent NSW Vouchers for a Term Class, School Holiday Workshop, Birthday Party or Family Art Workshop, please enter the voucher details at the checkout when booking. Please ensure you enter the voucher details correctly along with your child's name and date of birth.
Where do I find out more about the Creative Kids Vouchers?
Terms & Conditions
Please read carefully before completing your booking and payment. 'Class' refers to any term based class or workshop provided for children, adults and families.
Terms & Conditions about COVID-19
We are a COVID Safe Registered Business.
Should you need to withdraw from a class based on medical advice or a NSW Government directive that you should be isolated at this time, please cite this reason and provide a doctor's certificate, Covid-19 test results, or evidence that you live in or have visited a hotspot to support your request so we may refund you, or issue you with a credit. Otherwise, the standard terms and conditions as set out below will apply.
Furthermore, as a COVID Safe Business, we reserve the right to modify classes should the Government Health Regulations mandate that we do so. This may mean that your paid live face to face class will still run if we are able to under the health regulations in a modified live and online format (i.e. via Zoom).
Should we need to take steps to temporarily close Julie Peadon Art as a result of the Government Health Regulations and should we be unable to offer our classes using the modified live and online format as described above, we will endeavour to provide students with either a refund or credit on a future class or workshop.
If you choose to withdraw from a class due to COVID-19, you will be issued with a credit.
Creative Kids Vouchers
Please read our information on how to redeem your Creative Kids voucher with us before enrolling. As a registered Creative Kids provider, we follow the Service NSW Creative Kids Usage Guidelines.
Cancellation and Refund Policy
Julie Peadon Art reserves the right to amend any class, tutor or schedule. In such circumstances, we will endeavour to provide a substitute of equal standing. Should a class have to be cancelled due to insufficient bookings, any student enrolled in that class will be contacted and an alternative class, credit or refund be arranged.
Refund, Cancellation and Transfer Policy for Term Courses, Workshops and School Holiday Workshops
The following policy relates to all Term Based Classes, Adult Workshops, Cocktails and Canvas Workshops, Birthday Parties, Corporate Workshops and School Holiday Workshops.
Refunds
Fees are non-refundable, unless negotiated for an extended illness. A medical certificate will be required before a full refund is negotiated. Any refund will be determined in line with the Cancellation and Withdrawal timeframes as listed below.
Cancellation or Withdrawals
If you choose to withdraw from a class or workshop up to 7 days before its commencement, you will be charged 50% of the class or workshop fee with the remainder to be refunded.
If you choose to withdraw from a class or workshop within 7 days of its commencement, you will be not receive a refund, transfer or credit.
No refunds transfers or credits will be provided if you withdraw or cancel on the day of the class or workshop and no refunds, transfers or credits once the class or workshop has commenced.
Missed Classes or Workshops
We may arrange a transfer or make up sessions if you miss a class, or if your personal circumstances change. A make up session will be dependant on whether there is capacity in the current bookings to accommodate your transfer or make up session request.
Student Substitutions
If you have booking in a Cocktails and Canvas or School Holiday workshop that you cannot attend, you may transfer your booking to someone else, or you may transfer to another date provided there is booking capacity to do so. Please let us know at least 24 hours prior to the workshop commencing.
If the term based classes have not yet commenced, you may transfer the whole of your enrolment to someone else. However, we require at least 48 hours notice of this prior to the class commencing.
Payment of Fees
Class fees are listed on the Bookings page of our website. Payment of the full class fee via online credit card payment or by direct transfer is required at the time of booking to secure your place.
If you are using a Creative Kids Voucher to offset your class fees, please ensure you use our coupon codes listed in the booking details for your class or workshop so that your discount will be dedicated from the total amount payable at the checkout.
For custom workshops, birthday parties, corporate workshops and 'purchased' Gift Certificates, we will issue you with a tailored Tax Invoice.
Once payment is received, you will receive a notification advising of your booking confirmation.
Discounts on Fees
We offer a number of discounts on fees and these are listed below. The following general conditions apply to these discounts
None of the listed discounts apply to school holiday workshops.
These discounts cannot be used in conjunction with any other special offer or where the fee is already reduced;
Discounts do not apply when you are using a 'complimentary' or 'prize' Gift Certificates.
Free Trial Class: We offer a free trial class to all prospective students. Free trial classes are not available to those who have already participated in a class or workshop event. Please note that we are a COVID Safe Business and may not be able to accommodate a Free Trial in classes which are already at capacity due to the need to adhere to Government COVID Compliant Regulations.
Early bird: Book and pay for an 8 week Term Based Class by the required date and receive a discount on fees.
Special Promotions and Group Bookings: We occasionally offer two for one special promotions, group bookings or other marketing promotions. You will receive a Coupon Code for that campaign and will need to book within the requisite time frame.
Gift Certificates
'Purchased' gift certificates are valid 12 months from the date of purchase or until the date listed on the certificate. Our Cancellation and Refund policy applies to 'Purchased' gift certificates used to pay for classes and workshops. You may also put the dollar value of the gift certificate towards purchasing a piece of original art in our Studio 71 | Julie Peadon Art gallery.
'Complimentary' gift certificates are issued for competitions and fundraisers as part of our donations in the wider community. These are valid for 12 months from the date of issue or until the date listed on the certificate. 'Complimentary' gift certificates cannot be use in conjunction with any other discount, special offer or gift certificate.
No cancellations, transfers or credits are possible when a 'Complimentary' gift certificate is used to pay for a class.
Absenteeism
Fees are non-refundable, unless negotiated for an extended illness as described above . If you miss a class or workshop and there is booking capacity to tranfer you to a make up class, we will endeavour to do so if your personal circumstances change.
Photography
Each week, we take photos during class of students and artworks. These photos are used for Julie Peadon Art's promotional purposes such as media advertising, brochures, social media, editorials and website curation. These photographs are used exclusively by Julie Peadon Art. As a condition of your booking, your consent is implied. Should you not wish for us to take and use photos of you, your child, your family or your artwork, please notify us in writing.
Occupational Health & Safety
Julie Peadon Art is fully insured for public liability. We are also insured for our "Walk from School Program" from St Mark's Primary School and Drummoyne Public School. Our tutors and volunteers all hold valid Working with Children Checks to comply with legislation as set out by the NSW Office of the Children's Guardian. Our tutors also hold valid St John's First Aid Certificates.
Privacy
Contact information you supply to Julie Peadon Art will not be disclosed to third parties, except where required by law. All our payments are processed via secure online payments or via direct deposit.
We do retain your email address and send emails to students and past students for marketing purposes. You may unsubscribe from or subscribe to our mailing list at any time.